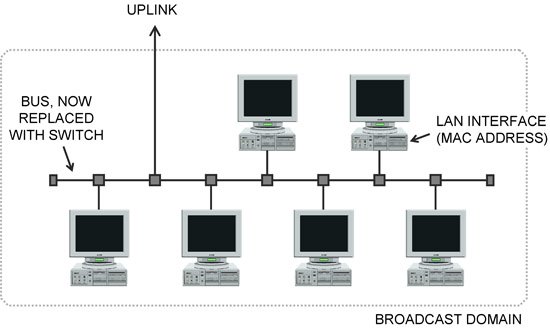 Since the computers are all connected to the common bus, if one transmits, all the others will hear the transmission. The term broadcast domain is used to refer to this group of computers; they broadcast transmissions to all the other computers in the group.
Since all computers receive the transmission, a means of indicating which computer the transmission is intended for, which one should react to the transmission is required. This is accomplished by attaching an address that indicates the desired computer to the data before broadcasting it to the group.
IEEE standard 802 defines a Media Access Control (MAC) service to do this addressing plus other tasks including framing, access control and error control. Since the MAC service performs only part of the OSI Layer 2 functions, it is called the MAC sublayer.
The addresses are called MAC addresses.
Every computer is assigned a unique MAC address. Or to be more precise, the integrated circuit in the computer implementing the physical connection to the LAN, called the LAN interface, is assigned a unique MAC address.
At present, MAC addresses are six bytes or 48 bits long: the first three bytes are a unique code identifying the manufacturer of the LAN interface, and the last three bytes are a production serial number. It is often written using 12 hexadecimal characters as illustrated.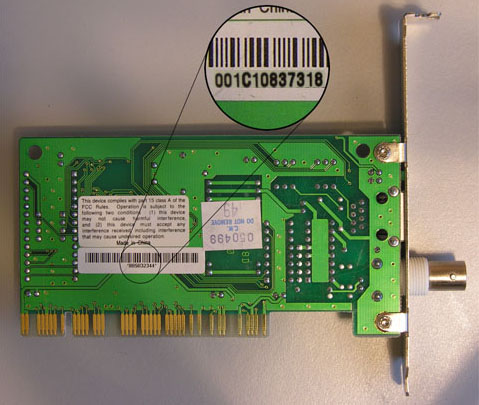 10BASE-2 Ethernet Card Adapter with MAC Address sticker
To communicate data to another computer in the group, a segment of the data is packaged with the MAC address of the desired destination computer, the MAC address of the source computer, error checking and framing into a MAC frame that is then broadcast to all the computers in the group.
All of the computers receive the MAC frame, verify the error check, then look at the destination MAC address on the received frame and compare it to their own MAC address. If they are the same, the receiving computer knows it is the device that should react to the frame. If they are different, the receiving computer knows it should ignore the frame, as it was intended for someone else.
*They make copiers...