Teracom Newsletter - June 2022
In this issue:
Telecom 101: Sixth Edition 2022
550 pages • Fully revised and updated • Published 2022

Release special: softcover $99

Packed with information, authoritative, up to date, covering all major topics - and written in plain English - Telecom 101 is an invaluable textbook and day-to-day reference on telecommunications for non-engineers.

This is the best comprehensive book on telecommunications available anywhere: based on the course materials for Teracom's famous instructor-led Course 101 Broadband, Telecom, Datacom and Networking for Non-Engineers, the selection of content, its order, timing and pacing have been tuned, refined and constantly updated over years to effectively define and deliver the core set of technical knowledge needed by anyone serious in the telecom business today.

Telecom 101 Sixth Edition is right up to date with discussion of aircraft interfering with 5G in the C-band.

Telecom 101 covers the technologies, the players, the products and services, jargon and buzzwords, and most importantly, the underlying ideas... and how it all fits together.

In one book, you get consistency, completeness and unbeatable value: a wealth of clear, concise, organized knowledge, impossible to find in one place anywhere else!

Reviewing the Telecom 101 Table of Contents, you'll find that many chapters are like self-contained reference books on specific topics; get all of these topics bound in one volume for one low price.

Compare this to hunting down and paying for multiple books by different authors that may or may not cover what you need to know- and you'll agree this is a very attractive deal.

Telecom 101 is your go-to resource covering all major topics:

The modern Broadband Converged IP Telecom Network
Telecom fundamentals: modems and multiplexing
Network fundamentals: packets and frames, TCP ports, MPLS
Internet fundamentals: ISPs, DNS, cloud computing, web services, data centers
Telecom services: residential, business, wholesale
Digital media: digitized voice, video, images, quantities, text
VoIP fundamentals: system components, voice in packets, SIP, softswitches, gateways
Wireless: spectrum, mobile networks, LTE, 5G, broadband wireless, Wi-Fi, satellite
Fiber: fundamentals, wavelengths, DWDM, Optical Ethernet, fiber to the premise
Copper: the PSTN, analog, POTS, DSL, Hybrid Fiber-Coax, LAN cables
Equipment: routers, Layer 2 switches, call managers / softswitches, legacy CO switches and PBXs, gateways
The OSI Model: the Layers, their purpose, implementation, how protocol stacks work
Ethernet, LANs and VLANs: MAC addresses, MAC frames, Layer 2 switches, VLANs
IP: public and private IP addresses, subnets, routers, DHCP, NAT, IPv6
MPLS and Carrier Networks: Service Level Agreements, virtual circuits, business VPNs, Class of Service
Wrapping up: Technology deployment steps, analysis, design, implementation, The Future

Telecom 101 is the course materials for Course 101, allowing study and review of topics before attending a course, and a valuable desk reference after.

Telecom 101 is also the course book and study guide for the TCO Certified Telecommunications Analyst (CTA) telecommunications certification.

Telecom 101 is an economical and convenient way to self-study... these are the materials to an instructor-led course that costs $1895 to attend.

Written by our top instructor, Eric Coll, M.Eng., Telecom 101 contains decades of knowledge and learning distilled and organized into an invaluable study guide and practical day-to-day reference for non-engineers: career- and productivity-enhancing training... an investment in life-long knowledge that will be repaid many times over.

Softcover: order direct from Teracom. Limited-time sale $99

eBook: available on Amazon, Google and Apple
The eBook edition contains every word from the hardcover and softcover editions, in reflowable text and images that display on any device. A detailed hyperlinked Table of Contents allows pinpoint navigation to the information you need.

Join thousands of satisfied customers. Get your copy today!
BOOT CAMP

---
Printable BOOT CAMP brochure with detailed outline

This is an easy sell with management. Your increase in productivity and accuracy will over time far outweigh the cost of a week's training. Plus, you get bonus online courses and certification, and high quality printed course books.

Here's a cut-and-paste training request template to submit for approval.

✔ Guaranteed to Run
There is already sufficient registration to run the class.

BOOT CAMP
Live Online July 18-22 ✔ Guaranteed to Run
In-Person August 22-26 ✔ Guaranteed to Run


Relatively new to telecom? Frustrated with all the jargon and buzzwords? Grab this opportunity to get the training you need!

Join thousands of satisfied non-engineering professionals! Bust the buzzwords, demystify the jargon and understand today's converged broadband IP telecommunications, the technologies and services, the underlying ideas, and how it all fits together.

Stay focused, engaged and learn with a professional instructor.

Eliminate lack-of-knowledge embarrassment and frustration. Be more confident with a solid base of telecommunications knowledge you can build on, from fundamentals to IoT and everything between.

LIVE ONLINE July 18-22 details

IN-PERSON Finally back in the classroom August 22-26 in Washington DC.

Specifically designed for non-engineers, Teracom's renowned telecommunications training is organized into two courses back-to-back to make a full week called BOOT CAMP:
Course 101: Broadband, Telecom, Datacom and Networking for Non-Engineers, then
Course 130: Voice over IP, SIP, Security, 5G and IoT.

Some people, needing a comprehensive base in telecom, attend only the core training Course 101 the first three days, and get the included CTNS Certification.
Others, who already have a base, attend Course 130 the last two days for VoIP, the Security module, 5G and IoT with examples like Smart Cities, and get the included CVA Certification.
Most people attend all five days, designated as Course 111 BOOT CAMP, to get the most comprehensive and highest quality telecommunications training available, at a discounted price, with three TCO Certifications included: CTNS, CVA and the prestigious TCO CTA Certification.


Full BOOT CAMP details
Student evaluations from the May 2022 BOOT CAMP Live Online
---
"Thank you again for such an informative class. It has given me a deeper understanding of the communication technology my program provides. This seminar helped me understand the basics of communication traffic signals and how they are labeled and transported across networks. I liked the logical layer upon layer approach to presenting the technical and complex communication environment. The instructor was nerdy in a fun and engaging way. I enjoyed his teaching style."
- Heidi Schuster, Cybersecurity and Infrastructure Security Agency, May 2022
"This seminar was excellent. I learned so much and until this week, I didn't realize how many 'light-bulbs' I had in my head, because the connections were lighting up like 4th of July! I really enjoyed the layout of the class. The manual is written in layman's terms and as a non-engineer, I appreciated it. The instructor, Richard, was the best. Loved his style of teaching, from the manual, real-life examples/stories, humor, and diagrams. Thank you! I truly enjoyed this course and the way it was presented."
- Resha McIntosh, FirstNet, May 2022
"This class was beneficial for me on three overall levels: Professional, Personal and Educational. Even though this class was taught in a professional (work) setting, the material is relatable on multiple levels. Anyone who is interested in technology and communication should definitely take this course. The instructor is flat out phenomenal! The subject taught at hand was multifaceted and dense. In short, this class is not easy to teach or swallow as a student but the instructor created an relaxed environment. His expertise and comical attitude made it easier to relate to the material taught. The instructor used a myriad of visual aids to help build the bridge for the student to learn or at least understand the material. Teracom could not have chosen a better person in my opinion."
- Chris Patterson, FirstNet, May 2022
"I need to know about telecommunications for my job but I have very little technical experience or knowledge. I have taken several introductory telecommunication courses over the past six years and this is by far the best one I've ever taken. I now have confidence in my basic knowledge of telecommunications after completing the course. It was amazing to see how telecommunications works and how the various components work together.
The course materials are excellent, well organized, and has enough details in the diagrams to be helpful but not so much it becomes overwhelming. I found the explanations (on the even pages) next to the slides/diagrams to be very informative and clear.
The instructor is fantastic! Highest recommendation! Seriously! The instructor is incredibly knowledgeable and continuously made relevant correlations to real-world situations. I do not have a technical background. This instructor kept my attention for three days and I was able to follow and understand a vast majority of what he was teaching.
He clearly loves teaching and knows his stuff! I would happily sign up for another course if I knew he would be teaching it. Usually I like training courses that have group discussions and activities to break up the content; however, I liked the almost continuous lecture for this course. (The instructor was very open to questions though.) The instructor is exceptionally knowledgeable and I felt I got more from listening to him than I would have received from group discussions or activities."
- Tiffany Perry, May 2022
Tutorial: Network Core Nodes
---
Section 10.6.4 of Telecom 101: Sixth Edition 2022
A carrier's network core, colloquially referred to as their backbone, provides high-capacity, high-availability connections, notionally between cities.
The connections can be between Central Offices, wire centers, toll centers, other switching centers, CATV head ends, Mobile Telephone Switching Offices, Internet Exchanges and/or data centers.
Fiber optics is used as the basis of the connections since it can support very high numbers of bits per second. Lower-speed (and lower-cost) circuits are used to provide access to this core to users.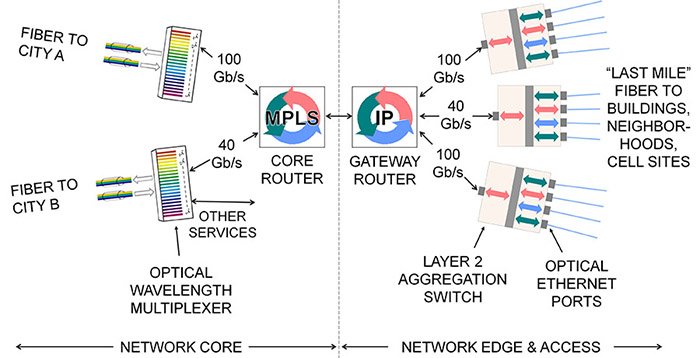 FIGURE 121 NETWORK CORE NODE
At the end of each fiber that makes up the network core is a router. The router is sometimes called a network node, after the French word for knot. In some cases, the entire building housing this router is called a node.
A knot, because in addition to connecting core fibers to other cities, the many local access fibers to buildings, neighborhoods, cell sites and everything else are also connected to the core at this node.
Figure 121 provides a closer look at the architecture of a core network node.
DWDM (Section 10.4) is used on core fibers to increase the capacity connecting routers in different cities to bit rates measured in the Terabits per second.
A gateway router is placed as a point of traffic control between access circuits on the right and the core router on the left. This gateway router also implements MPLS (Chapter 17), which is used to manage capacity on the network circuits.
Terminating a physical fiber means plugging it into an Optical Ethernet SFP transceiver inserted in a hardware port in a rack-mount device.
Routers are built with a relatively small number of hardware ports between which they can relay packets at line speed. Some of these ports would terminate core fibers, and others terminate connections to aggregation devices for access fibers via that node's gateway router as illustrated in Figure 121.
Layer 2 switches (Section 15.4) with up to hundreds of Optical Ethernet hardware ports each are used to terminate the access fibers, which can number in the thousands.
Layer 2 switches are also data concentration or aggregation devices, interspersing traffic from all of the access circuits into high-speed streams to feed to the router. Everything works in both directions at the same time.
Layer 2 switches also implement VLANs (Section 15.5), a critical tool for segregating different users on the same access fibers in cooperation with additional Layer 2 switches connected downstream, as described in the next section.
- - -
This is one small piece of Telecom 101.
Join thousands of satisfied customers, and get the entire book today!
- - -
Your colleagues may be interested... would you please forward this to them?
Many thanks,
Eric Coll, Director
Teracom Training Institute
Here are some links that you may find useful:
Online Courses and Certifications
Privacy policy: We will NEVER give your email address or any other personally-identifying information about you to anyone without your consent. full statement
About this email: Teracom Training Institute is sending you this message following your request to receive information.
Unsubscribe:
If you have received this message in error, and/or no longer wish to receive these messages, please accept our apologies for the inconvenience, and follow these instructions to unsubscribe: Reply to this email with the word "remove" in the subject. The quote marks are not necessary.
Or sign in to your myTeracom account with username = the email address this email was sent to and click the link for Newsletter under Account settings.
Subscribe: To receive future issues of the Teracom Training Institute newsletter, be informed of new tutorials, new lessons and courses, seminars and Teracom specials, add yourself to our private mailing list. We'll never give your e-mail address to anyone without your consent. You can unsubscribe at any time.
Copyright © Teracom Training Institute. All rights reserved. privacy policy contact us FAQs, help and policies
Teracom Training Institute • 4625 W Nevso Drive Suite 2, Las Vegas NV 89103 • 1-877-412-2700
www.teracomtraining.com