Here's your Teracom newsletter!
In this issue:
Telecom 101 Fifth Edition: 2020
---
High-Quality Reference Book and Study Guide Covering All Major Telecommunications Topics... in Plain English.
7" x 9" softcover book • printed in color • 550 pages • 5th edition • published 2020
ISBN 9781894887588 (print) ISBN 9781894887595 (eBook)

Packed with information, authoritative, covering all major topics - and written in plain English - Telecom 101 is also an invaluable textbook and day-to-day reference on telecom.

Completely updated and revised for the 2020s, the new Fifth Edition of Telecom 101 is the materials from the latest version of Teracom's famous Course 101 Broadband, Telecom, Datacom and Networking for Non-Engineers, plus additional topics and chapters.

In a user-friendly 7 x 9" softcover version, printed in color, or in eBook format, Telecom 101 brings you in one volume consistency, completeness and unbeatable value.

Telecom 101 also serves as a study guide for the Telecommunications Certification Organization TCO Certified Telecommunications Analyst (CTA) telecommunications certification, covering all material required for the CTA Certification Exam except the security module.

Our approach can be summed up with a simple philosophy: Start at the beginning. Progress in a logical order. Build one concept on top of another. Finish at the end. Avoid jargon. Speak in plain English. Bust the buzzwords, demystify jargon, and cut through doubletalk!

Fill gaps and build a solid base of structured knowledge. Understand how everything fits together... knowledge and understanding that lasts a lifetime.

Ideal for anyone needing a book covering all major topics in telecom, data communications, IP and networking… in plain English.

A wealth of clear, concise, organized knowledge, impossible to find in one place anywhere else!

Free previews available on Amazon and Google Play
Tutorial: Mobile Operators, MVNOs and Roaming
---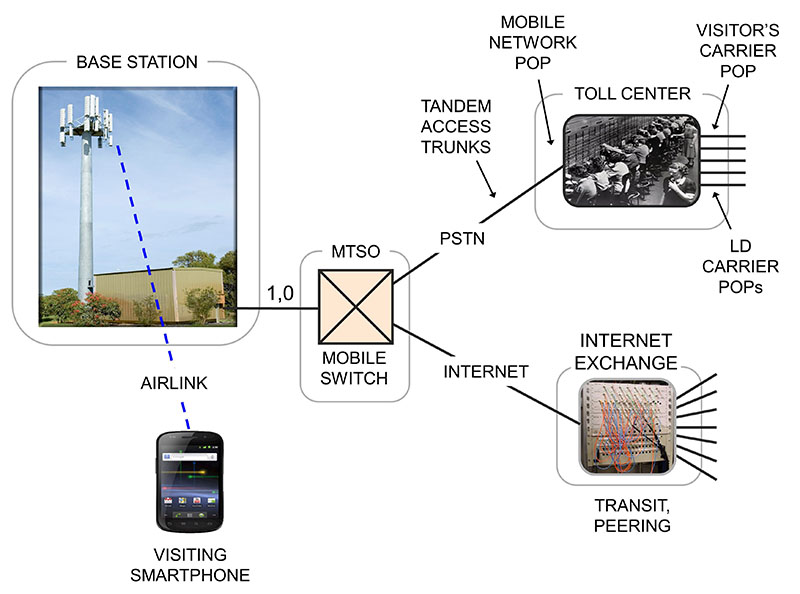 From the new Telecom 101 Fifth Edition: 2020
9.7 Mobile Operators, MVNOs and Roaming
9.7.1 Mobile Network Operator
Mobile Network Operator (MNO) is the term usually used to refer to a facilities-based carrier, i.e. a company that owns base stations, a mobile switch, backhaul between them, and spectrum licenses, and sells services to the public… and to other carriers.
The MNO implements external links to other carriers for PSTN phone calls and for Internet traffic.
For PSTN phone calls, the MNO implements a fiber optic connection to a building traditionally called a Toll Center or Class 4 switching office. The termination of their fiber in that building is called a POP. It is their physical point of presence in the building.
Many other carriers have POPs in the building, including the ILEC, IXCs, CATV companies, other mobile carriers, and any other company that wants to connect phone calls to a phone on the MNO's network.
The operator of the toll center, usually the ILEC, provides a switch in the Toll Center to switch phone calls from one carrier's POP to a different carrier's POP.
For Internet access, the MNO implements a fiber optic connection to one or more Internet Exchange buildings, where they pay the operator of the IX to route packets to other carriers with whom the MNO has established IP packet transit and peering arrangements.
9.7.2 Mobile Virtual Network Operator
Mobile Virtual Network Operator (MVNO) is the term used to refer to a non-facilities-based carrier… one that does not own the hardware or spectrum licenses or POPs.
Instead, the MVNO enters into a long-term contract with one or more facilities-based carriers to have them supply a "white label" service that the MVNO sells.
Typically the MVNO will develop a unique branding and sell smartphones and tablets to go along with its service.
When the MVNO deals exclusively with one carrier, the MVNO bill to the customer would be typically generated by the facilities-based carrier as a white-label service.
If the MVNO is very large and deals with multiple carriers, the MVNO may operate their own billing system, which is a significant investment.
The facilities-based carrier charges to the MVNO includes a volume-discount rate for IP addresses and Internet traffic, voice-minute airtime and switched access to the POP for PSTN phone calls.
The MVNO also has to pay for connectivity from the POP to other toll centers for "long-distance" connections, and the switched-access charge at the far end.
The rate plan the MVNO pays could be a mix of fixed-rate leases and usage-based billing.
Unless the MNO is obliged to sell capacity to MVNOs through regulations and tariffs, the nature of the plan is confidential business information.
9.7.3 Roaming
Roaming service is very similar to the service provided to MVNOs, in that it is the MNO that is providing the airlink, base stations, backhaul, mobile switch and connections to the PSTN and Internet.
In the case of roaming, the visitor uses their own phone, and billing is usage-based.
Roaming is an important feature for smaller players: they are facilities-based in selected cities, but to offer a national and international service to their customers, they must have roaming agreements in place with MNOs in other locations.
By denying roaming service to smaller or startup carriers, or charging an exorbitant price for roaming, an incumbent carrier can erect a barrier against competition.
In many countries, the right to roam and the wholesale cost of roaming is regulated to encourage competition.
Source: Telecom 101 5th Edition, Section 9.7
BOOT CAMP: Live Online June 5-8, September 21-25
---
BOOT CAMP is still running during the pandemic Live Online via two-way video conferencing.

All you need to join BOOT CAMP Live Online and get this world-famous training is a laptop with a webcam.

We'll ship you the high-quality printed color course books in advance of the BOOT CAMP, and you'll be part of a class that runs 9 - 5 Monday - Friday.

The best part: BOOT CAMP was totally updated for 2020, with 5G, Cloud Computing, Data Centers, Smart Cities & more, just before the pandemic struck!

This is the most up-to-date telecom-for-non-engineers training that can be found anywhere.

This is truly career-enhancing knowledge, and an ideal time to be "on course" while things are slow.

Teracom BOOT CAMP Live Online is a great opportunity:

Live interactive group training, guaranteed coronavirus-free!
You will be part of a class.
You will be able to see and hear everyone else.
We'll ship you the high-quality printed color course books in advance.
The instructor will stand up at the front of the room and teach the class like any other BOOT CAMP.
The instructor will keep you focused, so you learn, like any other BOOT CAMP.
You can ask the instructor questions, like any other BOOT CAMP.
The class will run on a schedule: 9 - 5 Monday to Friday, with scheduled breaks, like any other BOOT CAMP.
You get immediate access to three TCO Certification Packages, with their online courses.
No travel required.
Anyone worldwide can take BOOT CAMP.
All you need is a laptop with a webcam.

This is an ideal time to get the training you need!

You'll get the course materials shipped to you: two printed color books totaling over 500 pages with copies of all graphics and detailed text notes.

You will also get immediate access to the included TCO Certification Packages: CTNS, CTA and CVA and their twenty full-length online courses, with no time limits and unlimited repeats.

You'll get the full BOOT CAMP with our top instructor, as close as you can get without actually being there.

If you are an international participant, this is your opportunity to take BOOT CAMP. No US travel visa required!

If that's not enough, in many cases, it won't be hard to convince your boss this will be an excellent time to "go on course" while things are slow.

Carpe diem!
Public Schedule: BOOT CAMP / Course 101 / Course 130
---
We'll be resuming in-person public seminars once anyone who wants a vaccine can get one nationwide.
After all, live in-person training is the best you can get.
The head of the CDC vaccine program said she expects a vaccine in December and trials completed and wide availability by Spring 2021. The Oxford vaccine may well be available earlier.
BOOT CAMP San Jose CA February 1-5 2021
BOOT CAMP Denver CO April 19-23 2021
BOOT CAMP Washington DC May 10-14 2021
BOOT CAMP Chicago IL June 14-18 2021
BOOT CAMP Atlanta July 12-16 2021
Your colleagues may be interested... would you please forward this to them?
Many thanks,
Eric Coll, Director
Teracom Training Institute
Here are some links that you may find useful:
Online Courses and Certifications
Privacy policy: We will NEVER give your email address or any other personally-identifying information about you to anyone without your consent. full statement
About this email: Teracom Training Institute is sending you this message following your request to receive information.
Unsubscribe:
If you have received this message in error, and/or no longer wish to receive these messages, please accept our apologies for the inconvenience, and follow these instructions to unsubscribe: Reply to this email with the word "remove" in the subject. The quote marks are not necessary.
Or sign in to your myTeracom account with username = the email address this email was sent to and click the link for Newsletter under Account settings.
Subscribe: To receive future issues of the Teracom Training Institute newsletter, be informed of new tutorials, new lessons and courses, seminars and Teracom specials, add yourself to our private mailing list. We'll never give your e-mail address to anyone without your consent. You can unsubscribe at any time.
Copyright © Teracom Training Institute. All rights reserved. privacy policy contact us FAQs, help and policies
Teracom Training Institute • 4625 W Nevso Drive Suite 2, Las Vegas NV 89103 • 1-877-412-2700
www.teracomtraining.com