One of the Holy Grails in the telecom business has always been the implementation of a converged network: a single network that supports all communications: telephone calls, television, video on demand, music, text, graphics, images, and anything else you can think of.
Initial attempts at a converged network using ATM and ISDN were unsuccessful and did not gain critical mass.
The third time proved to be the charm, and the converged telecom network is now a reality, using packets and packet switching following the IP set of standards.
IP is now an integral part of modern telecommunications, used in all parts of the network: the network core, access circuits and in-building. We call this IP Telecom.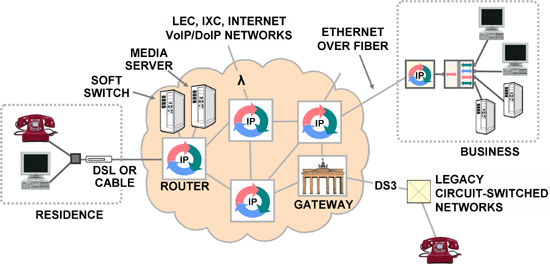 IP TELECOM AND THE IP-PSTN
Beginning with grunts and gestures, progressing to verbal messages, signal fires, written messages, postal services, telegraphy, radio, telephone, television and computer networks, each advance in technology has meant communication of more information, faster and to more people – but often with the need to adapt the information to suit the communication technology being used.
Realization of a converged network is another step in the evolution of the way humans communicate, in that communication mechanisms best suited to the information will be used, rather than the other way around.
The abbreviation "PSTN" has been a familiar part of the telecom lexicon for perhaps 100 years. Now its meaning is going to change.
For the past hundred years, PSTN has meant Public Switched Telephone Network:
Public: Accessible to anyone who pays.
Switched: A trunk switched onto the access lines at each end, for the duration of the call, then released.
Telephone: Speaking at a distance.
Network: Many interconnected nodes.
Going forward, "PSTN" will mean Packet-Switched Telecommunications Network:
Packet-Switched: Communications in packets that are routed using IP managed with MPLS to the far end.
Telecommunications: Transferring any kind of information across distance.
Network: Many interconnected nodes.
It may be necessary to call this the IP-PSTN for a transitional period, until trunks and circuit-switching falls into the same dustbin of history as step-by-step switches.