Here's a free sample of Course 110: IP, VoIP and MPLS for the Non-Engineering Professional
Note: This is an archived article that appeared in the Teracom newsletter October 2002, and this article has not been updated to reflect technology developments since then.
Please be assured that our training courses have been updated since the time of this article!
And you thought T1 at 1.5 Mb/s was "fast"... Gigabit Ethernet is a LAN technology that runs at 1,000 Mb/s = 1 Gb/s... 700 times faster than a T1.
"Gig-E" service is the latest high-end data communication service starting to be offered in major cities by big carriers, providing connectivity between your building and the carrier's fiber backbone at 1 Gb/s. From there, you could connect to your other locations via the carrier's managed IP network (sometimes called a "VPN") or connect to the Internet or both.
The beauty of this service is that not only does it provide ridiculously high speed connectivity, but it is compatible with what you are already doing inside the building: IP packets in LAN frames. Connecting to this service requires almost no additional knowledge for your IT people.
As illustrated, Gigabit Ethernet service will be delivered on multimode fiber from the carrier to the customer. From the customer's point of view, the service will appear as a jack on the right-hand "850 nm TRANSCEIVER".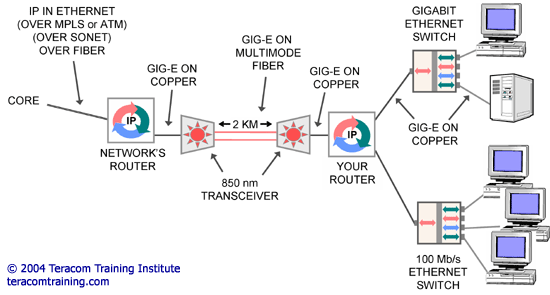 CONNECTING TO GIG-E SERVICE

In the course, we arrive at discussing this picture AFTER, we explain what "multimode" fiber is, why it would be used in this application instead of "single-mode" fiber, what "IP in Ethernet (over MPLS or ATM) (over SONET) over Fiber" is, and why there are brackets around some of those words.
When discussing this picture, we explain how this service will be actually used, and why some of the computers on the right are connected with Gig-E and some are connected with 100 Mb/s Ethernet.
We'll start at the beginning, put a good base of knowledge of fiber optics and broadband services in place, and explain all of this IN PLAIN ENGLISH.
Packed with career-enhancing knowledge, Course 110: IP, VoIP and MPLS for the Non-Engineering Professional is for those with a working knowledge of telecom and packets, wanting to advantage themselves with an understanding of the upcoming trends in telecommunications.
Whether you're an IT manager, product developer, investment analyst, strategic planner, account rep, project manager, or simply want to gain knowledge that will give you a competitive edge, this intensive two-day seminar is for you. The next wave in telecom and the tech sector is going to be a big one. Get ready now.
For more information: Course 110: IP, VoIP and MPLS for the Non-Engineering Professional