Note: This is an archived article that appeared in the Teracom newsletter October 2001, and this article has not been updated to reflect technology developments since then.
Please be assured that our training courses have been updated since the time of this article!
The "standards" for cellular wireless are a confusing mess of alphabet soup!
Here is a breakdown of the main contenders:
1G: incompatible analog techniques:
AMPS, NMT, TACS, ETACS
2G: incompatible digital techniques:
CDMA (IS-95), TDMA (IS-136), GSM, PDC
2.5G: packet overlay kludge on GSM:
GPRS
3G: incompatible digital techniques within IMT-2000 world standard:
1) IMT-MC: CDMA Multi-Carrier (a.k.a. cdma2000, IS-2000, 1X, 3X)
2) IMT-DS: CDMA Direct Spread (a.k.a. Wideband CDMA, WCDMA-FDD, UMTS)
3) IMT-TC: CDMA Time-Division Duplex
4) IMT-SD: TDMA Single Carrier (a.k.a. UWC-136, EDGE)
5) IMT-FT: TDMA Multi-Carrier (a.k.a. Digital Enhanced Cordless Telecommunication)

To make things even worse,
- There are a number of strategies for deploying IMT-MC referred to as 1xRTT, 3xRTT and others
- People argue whether GPRS and/or CDMA2000 are "2.5G" or "3G"
- Many erroneously refer to IMT-DS as "GSM".

On Day 2 of Teracom's Course 120 Understanding Wireless, we sort this mess out, starting with basic principles of cellular, and tracing the evolution of spectrum-sharing and handoff strategies like AMPS, TDMA/GSM and CDMA, so that you can categorize and compare technologies. We'll even provide you with a roadmap showing the migration from 2G (what we have now) to 3G (what might put Vodaphone out of business):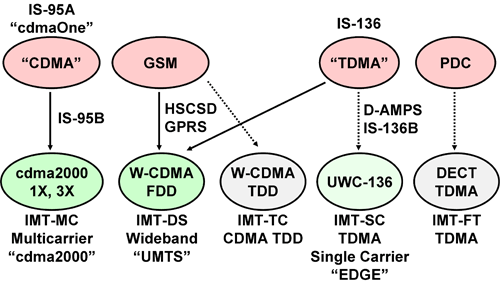 Out of this mess, we'll identify the two main technologies you should know about, which companies are championing them, who will be deploying them, and some of the nasty problems like battery heat-up and lack of revenue stream that might make this take a bit longer to roll out than some operators were projecting.

This is just part of the second day. On day one, we'll provide you with a similar no-nonsense understanding of general radio principles, data over radio and in-depth coverage of Wireless LANs.
For more information: Course 120, Understanding Wireless