Your Teracom newsletter for November!
In this issue:
Black Friday Deals
---
Black Friday Sale! $50 off CTNS Study Guide

Telecom, Datacom and Networking for Non-Engineers is the Certification Study Guide for the TCO Certified Telecommunications Network Specialist (CTNS) telecommunications certification, covering all material required for the CTNS Certification Exam.

Save $50: order online and apply coupon 1314.
Offer expires 2019 12 02. Valid in USA and Canada only. Books purchased with this coupon will be shipped Dec 3, in the USA via USPS Media Mail (2 - 8 business days delivery) .


Black Friday Sale! $500 off BOOT CAMP

Come to BOOT CAMP to get up to speed on the whole telecom and networking picture from A to Z, beginning with fundamentals and finishing with 5G and IoT applications like Smart Cities and highway platooning.

Totally updated for 2020 with broadband Internet and the converged IP telecom network in the front seat, the topics in this week-long course cover the full knowledge set necessary in telecom today.

Save $500: register online and apply coupon 1315.
Offer expires 2019 12 02. New registrations only. Cannot be combined with other offers.





BOOT CAMP / Course 101 / Course 130 schedule
---








Live, in-person training, where you can ask questions and interact, is the best you can get. Get away from distractions and up to speed on all aspects of telecom with Teracom's famous 5-day BOOT CAMP.

If you are often distracted at your desk, will you learn much with screen-based training? Won't you learn more out of the office?

Being in a classroom, with an expert instructor, ensures that you will stay focused, and learn.

Discuss and understand the latest technology and industry news in-class. At lunch, you can share your situation with class members, and find out what others are implementing. In-class group exercises help your learning.

Attendees often network and go to dinner together.

Plus, you get printed course books with detailed notes, CTNS, CVA and CTA online courses to refresh your knowledge, and TCO Certifications to prove it!

This is the 5-day BOOT CAMP that hundreds of people have attended over the years... and it's constantly updated. A major update with the agenda above is effective January 2020.

You may register for only the first three days of BOOT CAMP (Course 101 Broadband, Telecom, Datacom and Networking for Non‑Engineers) or for the last two days only (Course 130 Voice over IP, SIP, Security, 5G and IoT) as best meets your needs. But with the $695 bundle discount and extra bonus CTA Certification, the full 5 days is a great opportunity.


Tutorial: How Packets Get "Lost"
---
Packet networks can be prone to packet loss. Packet loss can attributed to many reasons such as contention and collisions on a LAN, physical link errors, and congestion at routers and switches due to high traffic volumes, traffic policing and enforcement on WAN services.
Perhaps the most common mechanism for packets disappearing is due to buffer overwriting on routers.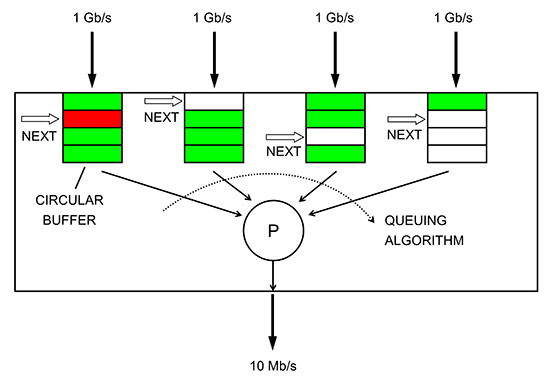 Click the illustration to watch a short video illustrating packet loss due to buffer overwriting
A typical router or switch can only process one packet at a time. For each of multiple high-speed (LAN) inputs to the router, a small amount of memory called a buffer is provided. Packets arriving on each input are stored in that input's buffer.
The router's processor services each buffer in turn (if there is no prioritization), extracting a packet, making a routing decision and sending it on its way. If prioritization is implemented, the processor services the buffers in the order dictated by the prioritization or queuing algorithm.
As packets are stored into the buffer, the pointer for where the next new packet should be written into the buffer is moved down. When it hits the end of the memory space which is the buffer, the pointer cycles back to the top. Sometimes they are called circular buffers for this reason.
The problem happens when the router's processor can't service all the buffers fast enough and a buffer fills up with unread packets, then the pointer for where to write the next new incoming packet moves to point to a slot already occupied by the oldest unread packet, and writes the newest packet in that slot. Poof! The oldest packet in the buffer disappears, never to be heard from again.
Here's a short video illustrating the effect.
If the packet was part of a file transfer, TCP will retransmit the missing part of the file in a new packet. If the packet was part of a live telephone conversation or live streaming video, UDP will let the receiver know a piece is missing... but the receiver will have to guess what the missing information is, as there is no time to retransmit it.
This discussion is included in the following training:
Your colleagues may be interested... would you please forward this to them?
Many thanks,
Eric Coll, Director
Teracom Training Institute
Here are some links that you may find useful:
Online Courses and Certifications
Privacy policy: We will NEVER give your email address or any other personally-identifying information about you to anyone without your consent. full statement
About this email: Teracom Training Institute is sending you this message following your request to receive information. If you have received this message in error, and/or no longer wish to receive these messages, please accept our apologies for the inconvenience, and follow these instructions to unsubscribe:
Unsubscribe:
Reply to this email with the word "remove" in the subject. The quote marks are not necessary.
Or sign in to your myTeracom account with username = the email address this email was sent to and click the link for Newsletter under Account settings.
Subscribe: To receive future issues of the Teracom Training Institute newsletter, be informed of new tutorials, courses, seminars and Teracom specials, add yourself to our private mailing list. We'll never give your e-mail address to anyone without your consent. You can unsubscribe at any time.
Copyright © Teracom Training Institute. All rights reserved. privacy policy contact us FAQs, help and policies
Teracom Training Institute • 4625 W Nevso Drive Suite 2, Las Vegas NV 89103 • 1-877-412-2700
www.teracomtraining.com