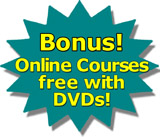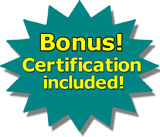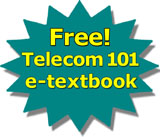 CUSTOMER REVIEW
by Nathan Hunt
Dallas, GA
"This type of quality builds my faith in humanity"
Worth every nanocent. I have watched seven DVDs since I got them three days ago (bought 9)—which basically means that I am doing nothing else. Very impressed with the clarity and structure of the material. I will never take another class where the moron in the front holds everyone back. So, make more videos.
Would you recommend that other people buy these courses? Would you buy them again?
YES! YES!
Were the courses useful?
Very useful refresher. Very impressed that they are up to date. This type of quality builds my faith in humanity.
Which did you get?
All of them.
Was the content what you needed?
Everything that I wasn't sure about is clear now—about VOIP and telecom. As a LAN guy, I used to be real quiet during telecom discussions. Now I can contribute with confidence.
How was the production quality?
Excellent. No unnecessary bells and whistles to distract us.
Did you like the multimedia experience, with the instructor, graphics and bullets layered together?
Awesome!
How did you watch them? On a PC? On a television? In a group?
I watched them with my dogs on my PC, and on my 57 inch when I needed to relax.
Well done!! I would love to shake Eric's hand.
Nathan Hunt
Dallas GA
Thank you, Nathan.
Consider it shaken.
- EC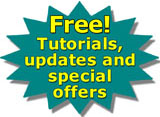 VoIP Training Courses on DVD
Designed for non-engineering professionals needing to get up to speed on VoIP

Full coverage of all major VoIP technologies, buzzwords and mainstream solutions
... and most importantly, the concepts and ideas underlying Voice over IP

Independent of any particular vendor's viewpoint

SIP, MPLS, voice packetization, RTP, G.729, hosted PBX, Megaco and much, much more
Core knowledge you can't get reading trade magazines or talking to salespeople
Click above for a movie trailer style preview.
Plan on waiting a minute while your player "buffers". previews help
If it is taking forever, right-click and choose "Save target as..." to your desktop and watch after it finishes downloading.
Includes all the fundamentals plus detailed explanations of SIP, MPLS, RTP, G.729, softswitches, Megaco, Hosted PBXs and more in over 6 hours of cinema-quality video.
Hundreds of organizations have purchased our videos!
Order yours today to benefit from this world-class training. Building a solid foundation, you'll
dramatically increase your confidence, productivity and effectiveness.
Not to mention acquiring a valuable, marketable skill.
Content overview

(scroll down for detailed outlines)
Understanding Voice over IP 1: Components · Standards · Architectures
Starts with a big-picture view of VoIP, understanding the components including softswitches and gateways, the standards like RTP and SIP, and all of the different ways VoIP can be implemented. video preview brochure
Understanding Voice over IP 2:
Voice Packetization · Voice Quality · Codecs, Jitter and Packet Loss · QoS with MPLS
Clear, concise explanations of how voice is packetized, the factors that can affect sound quality, codecs that can be used, RTP and jitter buffers, QoS, MPLS, Diff-Serv and Service Level Agreements. video preview brochure
Understanding Voice over IP 3: SIP · IP Call Flow · Carrier Interconnect
Delivers a solid working knowledge of SIP and IP call flow, plus options for connecting VoIP systems to the PSTN, including both Megaco and IP interconnect. video preview brochure
A complete package
Each course comes with:

A DVD with 2 hours of full-color cinema-quality video, detailed graphics and bullets, featuring our engaging and humorous instructor Eric Coll, P.Eng. providing lucid, clear explanations in plain English

A high-quality bound student manual with copies of all graphics plus extensive text notes

Online tests that can be used to measure knowledge before and after the training

Certification and a certificate suitable for framing
Value pricing
The set of all three DVD courses plus three student manuals is $695.
Compare this to $500 for one course on low-bandwidth CDs or download elsewhere, and you'll agree this is a very good deal. Plus, our courses are totally up to date, covering all major topics, comprehensive and authoritative. Add to this the VoIP Analyst I certification with certificate suitable for framing...
V8: Understanding Voice over IP 1


Components · Standards · Architectures
134 min. DVD-R NTSC format. 60-page 8.5" x 11" softcover bound workbook.
free preview video help

We'll get started with a big-picture view of a VoIP system, identifying and explaining key VoIP components, jargon and buzzwords, plus the main standards and protocols. Then we'll review one by one the many flavors of VoIP, comparing and contrasting the various implementation and architecture choices. Progressing through Internet telephony, Managed IP Telephony, PBX replacement with distributed call manager systems and IP Centrex / Hosted PBX, you'll gain the knowledge to confidently differentiate VoIP architectures and discuss pros and cons of options.
Chapter 1 VoIP Systems, Components, Standards, Jargon and Buzzwords
1.03 The Big Picture
1.05 Terminals
1.07 Voice in IP Packets
1.09 Soft Switches / SIP Servers / Call Managers
1.11 Media Servers
1.13 Gateways
1.15 LANs and WANs
1.17 Key VoIP Standards
1.19 Where All of This is Headed: Broadband IP Dial Tone
Chapter 2 VoIP Architectures and Implementation Choices
2.03 Computer-Computer VoIP over the Internet
2.05 Skype and IM
2.07 Computer to Phone e.g. SkypeOut (DS0 Interconnect to LEC)
2.09 Phone to Phone over the Internet e.g. Vonage
2.11 Managed IP Telephone Service (MIPT)
2.13 IXCs and IP-based Backbones
2.15 VoIP for Businesses and Organizations
2.17 VoIP-Enabled PBX and Migration Options
2.19 PBX Replacement
2.21 Hosted PBXs
2.23 IP Centrex
2.25 Asterisk and Open-Source IP-PBX Software
2.27 SO/HO IP Phone Features and Uses
V9: Understanding Voice over IP 2


Voice Packetization · Voice Quality · Codecs, Jitter and Packet Loss · QoS with MPLS


Approx. 119 min. DVD-R NTSC format. 48-page 8.5" x 11" softcover bound workbook.
free preview video help

The next video course drills into VoIP technology, enough to understand fundamentals, fill the gaps and explain jargon and mainstream practices without bogging down on details. You'll understand what exactly packetized voice is, how it happens and the standards and protocols used. You'll learn about codecs and compression, and understand factors like delay, jitter and packet loss and how they affect sound quality. Then we'll examine carriers' IP network technologies and the important topic of Service Level Agreements and the use of MPLS to implement Differentiated Services for Quality of Service (QoS).
Chapter 1 Voice Packetization, Codecs and Voice Quality
1.03 Voice Packetization
1.05 Measuring Voice Quality
1.07 Factors Affecting Voice Quality
1.09 Codecs: Voice Coding and Compression
1.11 Delay
1.13 Jitter
1.15 RTP
1.17 Protocol Stack: RTP, UDP, IP, MAC
1.19 Packet Loss
1.21 Tips for Maximizing Voice Quality
Chapter 2 QoS: Quality of Service in the IP World
2.03 Virtual Circuit Technologies
2.05 MPLS
2.07 Differentiated Services (Diff-Serv)
2.09 Traffic Conditioning and Service Level Agreements
2.11 Interworking Diff-Serv and MPLS
2.13 802.1P
2.15 Implementing QoS: Queuing Techniques
V10: Understanding Voice over IP 3




SIP · IP Call Flow · Carrier Interconnect


Approx. 116 min. DVD-R NTSC format. 54-page 8.5" x 11" softcover bound workbook.
free preview video help

In this course, you'll understand what SIP is, how it works, demystify jargon like proxy server and location server, understand how SIP fits in with softswitches and call managers, and trace the establishment of an IP phone call step by step. In the second part, we'll cover connecting to carriers using traditional DS0 PBX trunks and PRIs, how Megaco fits in to the story, plus IP interconnect, co-existence with legacy systems, integrated messaging and more.
Chapter 1 SIP and Call Flow in the IP World
1.03 What SIP Is and What It Can Do
1.05 Relationship to Other Protocols
1.07 SIP URIs: "Telephone Numbers"
1.09 Register: Update Your Location
1.11 INVITE: "Dialing"
1.13 Location Service: Finding the Far End
1.15 The SIP Trapezoid
1.17 SIP Message Example
1.19 How SIP Relates to Softswitches and Call Managers
1.21 SDP: Session Description Protocol
1.23 SIP Glossary
Chapter 2 Carrier Interconnect
2.03 Internet - PSTN Interconnect via DS0 (Vonage / SkypeOut)
2.05 Internet - PSTN Interconnect via IP
2.07 Session Border Controllers
2.09 Carrier - Business Interconnect Using DS0 and SIP
2.11 Interconnect using MEGACO
2.13 Carrier - Business Interconnect Using IP and SIP
2.15 Co-Existence with a Legacy PBX
2.17 Integrating Integrated Messaging
"I highly recommend the DVD series"
Excellent training series: The instructor intermixes a concise, easy to understand, unique presentation style with a twist of humor to keep it interesting. Eric uses easy to understand analogies to relate high-tech ideas in a way everyone can understand. This is an excellent, one stop, de-facto resource not only for training but also for the reference library.
Tim Eggenberger
Quality Engineer, Adtran
Huntsville AL
THE DVD ADVANTAGE
Cinema-quality video, animated bullets, plenty of crisp graphics, navigation menus and more - plus DVDs are convenient and easy to pass around in your department.
YOUR COURSE MATERIALS
Each course comes complete with a high-quality bound student manual with a laminated cover, copies of all bullets and graphics plus extensive text notes - sure to be a valuable reference for years.
TESTING AND CERTIFICATION INCLUDED
Every course includes an online knowledge evaluation test and certificate signed by the Director suitable for framing.
FREE SHIPPING
We'll ship your DVDs and student manuals to you for free by ground within the US 48 contiguous states and 10 Canadian provinces.
WATCH ON YOUR LAPTOP IN-FLIGHT
DVDs mean guaranteed to play in your laptop, ideal to watch with headphones on a flight.
CLASSROOM-STYLE TRAINING
DVDs also play in DVD players - connect it to your LCD projector and you've got a very high value-added scenario for your organization. We'll bundle books and certificates for everyone at a reasonable price.
SELF-PACED TRAINING
The Table of Contents of each DVD is a hyperlinked point-and-click menu, letting you jump to specific lessons... or watch start-to-finish like instructor-led training.
"The DVD Course is Excellent"
The best in telecom training indeed. You will be satisfied with NO regrets at all because when Eric explains you will understand (I guarantee you that).
Now I can see better what telecommunication was, is and its future is like.
A must have for the reference library collection as well. Thank you.
John M.,
Solomon Telekom
"Got the job!"
I just wanted to say thanks for your VoIP DVD video course set. After taking your course,
I had my interview.
At the interview, I was actually able to dazzle the CEO of this company my SIP/VoIP knowledge!
I got the job and have been doing rather well.
My family appreciates the better opportunity I was able to attain because of your training.
Senior VoIP Sales Rep
Los Angeles CA
"I've recommended to other people that they buy these courses"
Very good production quality. The graphics and bullets are a great asset to the learning process. The content was good. I've recommended to other people that they buy these courses.
Claudia Coleman
AT&T
Kansas City MO
"Best I've ever seen"
This has been the best program I've ever seen. The instructor on the DVD is fun and charismatic, and the booklets are great as well.
I would most definitely recommend other people buy the courses.
Adele Toral
Account Executive
Wave2Wave
Bayside NY

"Really great"
The instructor was really great. Kept my interest. All of it was great and worked well together. If someone can't go to the course in person, the DVDs are the next best thing.
Susan Clements-Anderson
DND
Halifax NS
tell a friend: