Your Teracom newsletter for April
In this issue:

Course 133 Fundamentals of VoIP & IP Telecom Networks
---
3-day course for Non‑Engineers explaining Voice over IP and the network it runs on... in plain English.

We're always listening to our customers to best meet your needs. Recently, we've had wide interest in a course to get people up to speed on VoIP and "the network", from telecom people who need to understand the new-generation IP telecom network and VoIP, from datacom people who need to understand voice on LANs and WANs, and people now working with VoIP phone systems.

In response: VoIP Course 133 Fundamentals of VoIP & IP Telecom Networks, getting Non‑Engineers the core set of knowledge that everyone serious involved with VoIP and IP telecom needs to know.

Understand telecom and network jargon, buzzwords, technologies, and most importantly, the underlying ideas... and how it all fits together. Eliminate buzzword frustration. Increase confidence, accuracy and efficiency.
Learn what all of the VoIP jargon and buzzwords mean,
How VoIP works end-to-end & the components involved
Fundamentals of the network VoIP runs on
Who supplies what, and how it all fits together
Best practices, tips and tricks for migration & deployment
Case studies and class exercises cement your knowledge
Bonus: six online CVA courses and TCO
Certified VoIP Analyst (CVA) certification included
With numerous case studies and class exercises, you will learn how a VoIP call is set up and carried end-to-end, how an organization saves money moving to softswitches and SIP trunking, project management, best practices and more.
Get a solid knowledge base to build on… structured, complete knowledge you can't get on the job, reading articles or talking to vendors.
Eliminate buzzword frustration, and gain the knowledge to be confident!
This is career-enhancing knowledge that lasts a lifetime, and training that will be repaid many times over in increased accuracy and productivity.
Full course description with detailed outline • current public seminar schedule
Top-ranked instructor, three days in the classroom, 300‑page course book with detailed notes, bonus CVA Online Courses, TCO CVA Certification. $1495.
To get off to a good start, we're offering earlybird specials, including a Telecom 101 textbook shipped to you, free!
Public Seminar Schedule: VoIP Course 133 and BOOT CAMPs
---
Denver, DC, Santa Clara, Atlanta, Chicago, San Jose, New Orleans









Live, in-person training, where you can ask questions and interact, is the best you can get.

If you are often distracted at your desk, will you learn much with screen-based training?
Won't you learn more out of the office?

Being in a classroom, with an expert instructor, ensures that you will stay focused, and learn.

Discuss and understand the latest technology and industry news in-class. At lunch, you can share your situation with class members, and find out what others are implementing. In-class group exercises help your learning.

Attendees often network and go to dinner together.

Plus, you get printed course books with detailed notes, the CTNS, CTA and/or CVA online courses to refresh your knowledge, and optional TCO Certification to prove it!

Specifically designed for Non‑Engineers, Teracom's renowned telecommunications training is the core set of technical and business knowledge that everyone serious in telecommunications needs.

Bust the buzzwords, understand jargon, technologies, and most importantly, the underlying ideas ...and how it all fits together. This is knowledge you can't get on the job, talking to salespeople or reading articles.

Your knowledge skills, accuracy, productivity and buzzword-frustration level will all be improved with this career-enhancing training.

Seize the day and get the training and certification you need:

April 8 BOOT CAMP Denver
April 8 Course 101 Denver
April 11 Course 130 Denver

May 6 BOOT CAMP Washington DC
May 6 Course 101 Washington DC
May 9 Course 130 Washington DC

August 19 BOOT CAMP Washington DC
August 19 Course 101 Washington DC
August 22 Course 130 Washington DC

September 10 Course 133 San Jose
Tutorial - VoIP: The Big Picture
---
This tutorial is a lesson taken from Course 101, Chapter 1 "Fundamentals of Telephony". It is also used in Course 130 Voice over IP, SIP, Security, 5G and IoT, in Course 133 Fundamentals of VoIP & IP Telecom Networks, and in Online Course 2221, Fundamentals of Voice over IP, the first course in the Certified VoIP Analyst (CVA) certification package.
We begin understanding VoIP with a top-level view of the major components of a VoIP system. These components may be located at the customer premise, at a carrier, at a third party, or any combination thereof.
Discussion of VoIP system components necessarily involves discussion of IP and other related protocols, which are covered later in the course. Some of the protocols are introduced in this lesson, and explained in detail in subsequent lessons.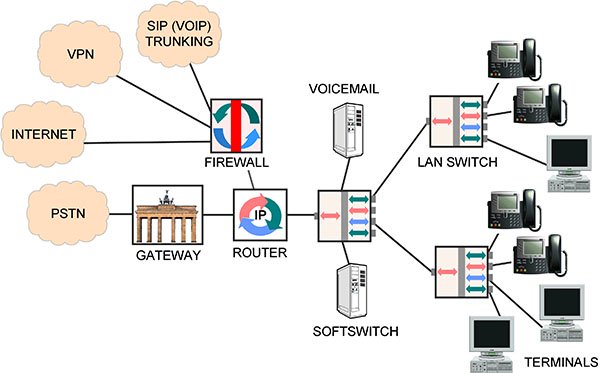 VoIP: The Big Picture
Beginning at the right side of the diagram, a VoIP system includes the following basic elements:
Terminals, including both dedicated-purpose IP telephones as well as soft phones, which are software applications running on general-purpose computers using Windows, Android and other operating systems.
A VoIP terminal has a keypad, a speaker and microphone, a codec to convert between analog and digital, and a protocol stack to handle the stream of digitized speech in typically 20 ms segments with timing variation correction, sequencing and error control.
Since it is a Voice over IP system, the terminal must also necessarily have an IP protocol stack for communication of the segments of digitized speech in IP packets, the DHCP protocol to obtain an IP address, a LAN interface and MAC address and physical wired or wireless connection to the network.
The terminal may optionally have many other features, functions and protocols such as a display screen and Internet browser incorporated.
Another type of terminal is a voicemail system, which may be called an Integrated Messaging System if it handles multiple different types of messages like voice, email, short text messages, fax, and supports functions like voice-to-text and text-to-voice.
Another component of a VoIP system is the physical connections, implemented with LAN infrastructure, consisting of LAN cabling or wireless LANs, and LAN switches.
The softswitch, also called a SIP server, SIP proxy or call manager, is an important component of a VoIP system. Its main function is to assist in call setup. The softswitch also manages terminals, regulates admission to the VoIP system and provides terminal authentication, registration, status and address resolution as well as call control.
The router connects LAN segments, properly called broadcast domains, to each other within the building, and to external connections, including to a gateway to get to the circuit-switched PSTN, and direct to the Internet, VPN services and SIP trunking services that move VoIP packets natively long distance.
Gateways are devices that perform format conversions between the Voice over IP world, which uses IP packets and SIP call setup messages, and the circuit-switched public telephone network, which uses DS0 channels and ISDN call setup messages. Both coding and signaling conversions are required.
A firewall system is required to manage connections to other IP networks. This includes The Internet, which allows any communications to anywhere but with no guarantees, Virtual Private Networks (VPNs), which allow any communications to specific locations (e.g. other locations of an organization), and may include performance guarantees, and SIP trunking, which carries VoIP to specific locations in native format, with performance guarantees suitable for telephone calls, and may include gateway service to convert VoIP to traditional telephony for calls terminating on the PSTN.
Earlybird Offers
---
Benefit from these offers by registering and paying early:
Course 133: save $100, or get a printed Telecom 101 textbook (retail $179) shipped to you, free.
All Courses: Get immediate access to included online courses and certifications
Use the correct coupon number at time of registration for Course 133 to get $100 off or the free Telecom 101 textbook.
After registering, follow these instructions to get access to the included online certification courses.
Register early: offers will be withdrawn without notice. Terms and conditions
CVA Certification Package Included with VoIP Course 133
---
Six online courses allow you to refresh your knowledge anytime. Write the optional certification exam to get your TCO CVA Certification to prove it!
The CVA Certification Package unlimited plan is included with VoIP Course 133. You get six online preparation courses plus the CVA certification exam, both with unlimited repeats and no time limits, included free with Course 133 Fundamentals of VoIP & IP Telecom Networks.
After registering, follow these instructions to get access to the included online CVA Certification courses.
Customers are rating Teracom training 4.9 ★★★★★ on Google!
---
We are blown away by the awesome reviews: 4.9 stars from 50 reviews! Thank you so much to everyone who contributed! We are tickled pink you found Teracom training so useful!
Volker B ★★★★★
I have done three certifications with Teracom (CIPTS, CWA, CTNS). The content of all three courses was excellent as it also covered the reasons for technological changes and evolutions. Since I work in the IT industry on the project management side for many years these courses were a perfect complement to my overall IT knowledge. I can now speak to engineers and technicians more on the same frequency and can provide better consultancy to my customers.
I feel the courses are also priced fairly and are fun to watch and study.
jlcombs1 ★★★★★
Teracom BOOT CAMP training provided students a robust telephony course that covered past, present and future technologies. This course strengthened our knowledge in the fundamentals of telephony and networking and educated us in more current technologies such as VOIP, 5G and IOE. A great course provided by extremely knowledgeable instructors!
Here are some links that you may find useful
---
Your colleagues may be interested... would you please forward this to them?
Many thanks,
Eric Coll, Director
Teracom Training Institute
Privacy policy: We will NEVER give your email address or any other personally-identifying information about you to anyone without your consent. full statement
About this email: Teracom Training Institute is sending you this message following your request to receive information. If you have received this message in error, and/or no longer wish to receive these messages, please accept our apologies for the inconvenience, and follow these instructions to unsubscribe:
Unsubscribe:
Reply to this email with the word "remove" in the subject. The quote marks are not necessary.
Or sign in to your myTeracom account with username = the email address this email was sent to and click the link for Newsletter under Account settings.
Subscribe: To receive future issues of the Teracom Training Institute newsletter, be informed of new tutorials, courses, seminars and Teracom specials, add yourself to our private mailing list. We'll never give your e-mail address to anyone without your consent. You can unsubscribe at any time.
Copyright © Teracom Training Institute. All rights reserved. privacy policy contact us FAQs, help and policies
Teracom Training Institute • 4625 W Nevso Drive Suite 2, Las Vegas NV 89103 • 1-877-412-2700
www.teracomtraining.com
| | | |
| --- | --- | --- |
| | | visit Teracom's website |
| | | |
| | | follow us on facebook |
| | | |
| | | free lessons on our youTube channel |
| | | |
| | | check out our blog for more articles |